Places To Play Pickleball in Albany, Oregon
We are lucky to have four pickleball venues in Albany, OR. WE alternate between Hackleman Pickleball Courts in the summer and the Albany Boys and Girls Club in the winter. We also have a great schedule at the G3 Athletic Club in Corvallis. In addition we have play at the Albany Tennis Club and the YMCA.
PLEASE SIGN UP IN ADVANCE ON THE DOODLE BOARD FOR EACH VENUE!
This is especially important during the winter when we have fewer players. The Albany Parks and Rec needs to know whether there will be enough players to warrant sending someone too open the facility and take money. If fewer than 4 are signed up the gym will not be opened! (Sign up instructions on Doodle site) Be sure to look at Doodle in the info section at the top or in the comments at the bottom to get the latest info on play times.
Summer – Hackleman Pickleball Courts:
– Mon/Wed/Fri 9AM-12PM; Sun 2-6 PM.
Doodle Signup: https://doodle.com/gx6iav8vzs6zpxvh
(This Doodle is also used from indoor play at the Boys and Girls Club during the winter.)
Eleanor Hackleman Park 654 Pine St SE, Albany, OR (See Map Below)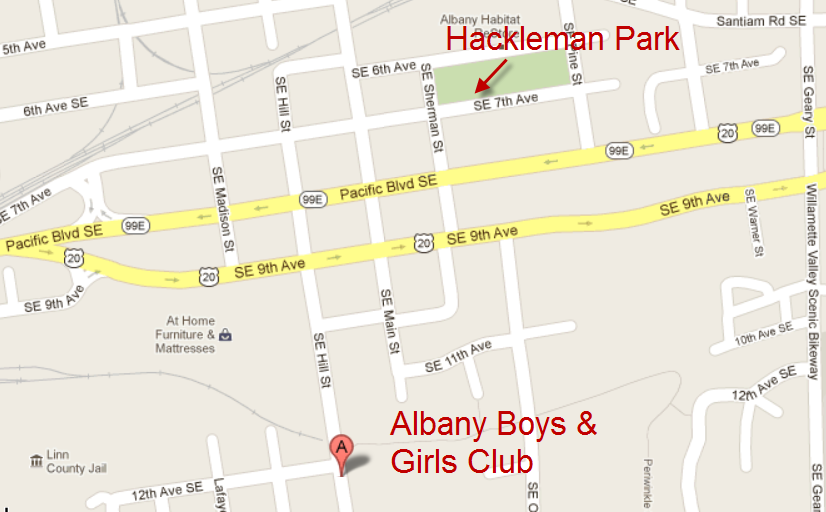 Winter – Albany Boys & Girls Club – Boys & Girls Club New Gym: Albany Boys and Girls Club 1215 Hill St. Albany, OR 97322
(3 courts) M/W/F 9-Noon. $3 drop-in, $2 with $20 punch card.
– Indoor play in the new building at the Boys & Girls Club, one of the Albany Parks and Rec employees will enter the building and open up the courts and the storeroom with the equipment. Everyone else should enter the door into the courts on the SE corner of the building, NOT the front doors. If the door is not ajar, knock loudly. Also, please wipe your feet dry before walking on the courts.
– G3 Athletic Club:
5520 Oregon Hwy 99W, Corvallis (near Lewisburg Road at signal light),
541-207-3508
– G3 Location on Google: 5520 OR-99W
As always call ahead to ensure you don't waste a trip.
– Pickleball play is Monday through Friday, 10am to 2:00pm. Tuesday, Thursday Drills and Practice Games – 10a- m -2pm with coaching from 10-11am.
Sunday, noon to 3pm
– Cost: $5 drop-in, $3 with $30 punch card for 10 plays.
G3 Doodle Signup: https://doodle.com/sm4se9khn9wxfvci
Albany Tennis Club: 1423 27th Ave SW, 541-826-2513
Winter Only
– Advanced Play: Friday Nights 6-10 PM
– Sunday 2-5 PM
Cost: $5 drop in
Albany YMCA, 3201 Pacific Blvd. SW, (541) 926-4488
$15 per one drop-in play. This cost is primarily due to limitations in the security capabilities at the YMCA at this time. They are unable to limit the movement between venues at the club so they need to charge this level to ensure that they are compensated for any and all potential usage of their club.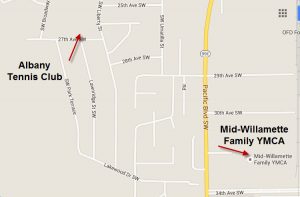 Corvallis Pickleball Website (http://picklero.wix.com/corvallis-pickleball)
Lots of information about Corvallis Pickleball either indoors at the Timberhill Athletic Club or outdoors at the 8 court venue at Adams school on Philomath Blvd. They also have a Doodle Board for the outdoor play, weather permitting.